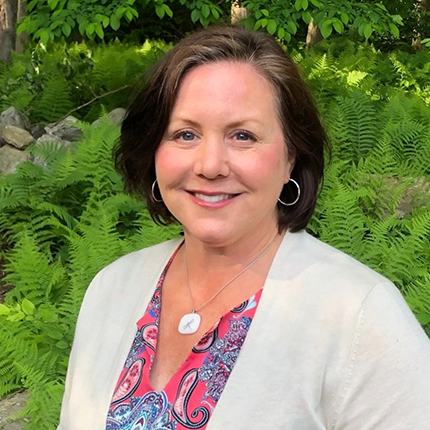 "UConn is very military-friendly, with an outstanding veteran tuition waiver program and superior caliber of professors, many of whom are involved in important research projects that will have a substantial impact on the future of our planet." - Dawn Works-Dennis, Sustainable Environmental Planning and Management Online Graduate Certificate, Graduate Spring 2020
UConn All the Way 
Dawn Works-Dennis, a longtime resident of Norwich, CT and veteran of the Iraq war, earned her Bachelor's degree, a Master's degree, and the Sustainable Environmental Planning and Management (SEPM) Online Graduate Certificate from the University of Connecticut (UConn). She's now about to embark on a second UConn Master's degree, and she's already 12 credits ahead thanks to the SEPM program, which she completed in May 2020.
Choosing the Sustainable Environmental Planning and Management Online Graduate Certificate program from the University of Connecticut (UConn) was an easy decision for Dawn Works-Dennis. In fact, other than receiving an Associate's degree from Asnuntuck Community Technical College 30 years ago, Dawn's "civilian" education has been UConn all the way. From earning her Bachelor's of General Studies in 1998 to a Master's of Social Work in 2004, Dawn has been one of UConn's most dedicated—and gifted—students. And this past May, she completed the certificate program. In part, she credits earning the certificate credential with helping her secure a promotion to Supervisory Facilities Management Director with the Navy Facilities Engineering Command Public Works Department at the Navy Submarine Base in Groton, CT.
"My supervisors were aware that I was enrolled in the SEPM program," says Dawn, who began her 23-year military career as a member of the Connecticut Army National Guard in 1997, serving in Iraq from 2003-2004 as a Platoon Leader during Operation Iraqi Freedom. "They could clearly see I was working on my professional development and expanding my knowledge with facilities planning. I credit that with helping get the promotion from a federal 'Level' 12 to 'Level 13.'"
Three great reasons for continuing her lifelong allegiance to UConn
Her familiarity with UConn wasn't the only reason Dawn chose the Sustainable Environmental Planning and Management program. In her position of Real Property Accountability Officer, which she held prior to being promoted to Supervisory Facilities Manager, she decided to pursue credentialing with the American Institute of Community Planners (AICP). She did some research online, and discovered that the Sustainable Environmental Planning and Management certificate would allow her to earn the credits she would need to apply to the AICP. Another big plus was that the certificate credits could also be applied to UConn's Online Master's of Energy and Environmental Management program, for which she applied and is accepted to start in the Fall 2020 semester.
In addition, there was a financial incentive for Dawn to add another UConn credential to her long list of educational achievements. As she explains: "When I was doing online research to determine how I could earn the credits to apply for the AICP certification, I also looked at an online urban planning degree with the University of Florida. Those credits would have sufficed for AICP membership. But as a veteran, I could attend UConn at no cost using the veteran's waiver. The waiver sealed the deal."
Online—a complete natural for Dawn
In September 2019, Dawn started the 12-credit program, completing the first two courses by the end of December. She then took the final two courses the following semester, which she finished May 2020. For Dawn, one reason the program was so manageable despite its rigorous coursework was the HuskyCT/Blackboard platform. "The online platform is very comparable to how the military structures its educational programs. So it was really natural for me. I especially loved the discussion threads, which enabled all of us to articulate our ideas to each other in a casual, but focused manner. I was able to get to know my classmates really well based on our weekly back and forth discussions." She also adds that because of the online platform, there was no disruption to the coursework, even when strict COVID-19 guidelines were put into place in Connecticut.
Six heads are better than one
Dawn also thoroughly enjoyed the group projects. During the first semester in NRE 5220 - Environmental Planning for Sustainable Communities and Regions, she and five other students were paired together to develop an environmental action plan. For their project, they investigated and evaluated pollutant levels in the Connecticut Farmington River Watershed, focusing primarily on the Perfluoroalkyl and Polyfluoroalkyl Substances (PFAS) containing aqueous film that spilled into the Farmington River in June 2019. "We conducted a real-time survey of where the PFAS chemicals could have migrated. We also looked at the habitats that were affected in the watershed and investigated policy improvements to deal with PFAS chemicals going forward, as well as potential mitigation strategies for immediate use." The result was the compilation of a 35-page study entitled "Farmington River Watershed Water Quality Improvement Environmental Action Plan," which can be found here.
Dawn notes that her team used the HuskyCT/Blackboard platform to share all documentation and to pull the report together. But she emphasizes, "Everyone's final project was their own. We were given individual research assignments to support each other's plans, and those assignments guided the development of our own Final Action Plan. Our professor and director of the program, Dr. Chadwick Rittenhouse, was just terrific. I didn't realize that the way he structured the coursework would result in such a timely and relevant portfolio. He was extremely active with the class and provided a tremendous amount of feedback on our team and individual work."
Communicating technical material without the technical jargon
Dawn says she also really enjoyed course NRE 5210 - Communications for Environmental Decision Makers. "I really enjoyed the course because we learned how to write for the lay person, helping ensure we won't lose future audiences in technical jargon. I developed a scientific interest in preservation of the New England Cottontail that spanned other coursework, and honed my technical writing and research skills going into the Master's program."
For the course's main project, Dawn conducted a study entitled "A Tale of Peter Cottontail and the Canopy," which focused on the disappearing habitat of the New England Cottontail and best forest management practices for the protection of its decline. "The courses were very personalized. While the weekly module assignments were already established, there was a lot of freedom in choosing topics that were meaningful to each of us to apply theory. I was able to apply what I was learning about sustainability theory to specific topics of interest, which resulted in my report on the New England Cottontail."
Renewal energies are not without drawbacks
Now in her new role as Facilities Management Director, Dawn finds that the information gleaned from the certificate program applies in her day-to-day job. "In my new role, it's extremely important for me to understand the environmental resources of our base and the myriad of sustainability issues we face," she notes. For example, Dawn explains that energy resilience projects are especially critical for the submarine base. "We all live on an electrical grid, but for the Department of Defense, back-up energy sources such as fuel cells, generators, and renewable energies are mandated, and they fall under my purview. I learned in this program that renewable energy comes with its own issues. For instance, we think of solar panels as a great renewable energy source, and they are. But they also have a life expectancy and produce hazardous waste during manufacturing and with disposal. If we don't plan for how to properly dispose of the panels when they are no longer useful, we'll have another environmental issue on our hands. Looking at long term planning and sustainability issues like this is the heart of the SEPM program."
As Dawn looks ahead, she is very excited to begin the Online Master's of Energy and Environmental Management program. "When I complete this master's program, I will be able to say that I am a four-time UConn alum. It makes me so proud to be a Husky! UConn is very military-friendly, with its fantastic tuition waiver program and exceptional faculty, I am proud to be part of this team focused on the sustainable future of our planet."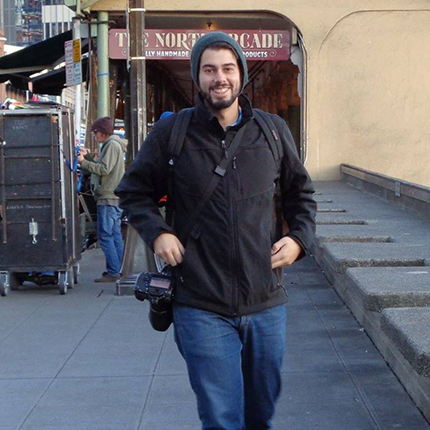 "Learning so much about environmental management has absolutely made me a more viable candidate for various positions." - Alex Syphers, Sustainable Environmental Planning and Management Online Graduate Certificate, Graduate Spring 2020
Making a Big Switch
Alex Syphers is passionate about the environment and is looking to make the switch from being an independent journalist to working full time on environmental regulations management. Having recently completed the Sustainable Environmental Planning and Management (SEPM) Online Graduate Certificate program from University of Connecticut (UConn), he says the new credential is opening doors to potential job opportunities in the field.
Looking for a job during a global pandemic is no easy task. Fortunately for Alex Syphers, he has some terrific advantages going for him. During his 10-year career as an independent journalist, Alex has had the opportunity to cover many stories focusing on various environmental issues throughout the State of Connecticut. For example, off and on over the past nine years, he has covered a story about Newington joining together to preserve a natural area on the top of Cedar Mountain. The area had been slated for development, which, thanks to the community, was halted.
Reporting on such stories has been a wonderful experience for Alex. As he says: "I have always been passionate about sustainability and environmental issues. I've spent my life hiking and camping and growing up outdoors and I hate to see our natural environment destroyed. Working as a journalist covering local environmental stories has fueled my interest in seeing if I could switch my career and potentially work in the environmental field full time."
Alex immediately realized that he would need more formal education in order to make the change. "I had always thought about getting a Master's degree," he notes. "That's when a light went off. I realized that I should pursue an advanced education degree focused in the environmental arena."
Alex went online and discovered the UConn Sustainable Environmental Planning and Management Online Graduate Certificate program. "I considered several other schools, but since I'm from Connecticut, it seemed like the perfect fit for me. I liked that I could do the program on my own time and at my own pace since it's entirely online. And if I decide to go for UConn's online Master's of Energy and Environmental Management program (MEEM), the credits I have earned from the SEPM certificate program will apply."
He does admit that he wasn't sure he would be accepted into the program since his background is in journalism. "I thought I would have to go back to school first and get a different undergraduate degree. But that was not the case at all. I was pleasantly surprised that I was accepted!" Even though Alex comes from a background quite different from the other students in the program, he says that his professor, Dr. Chadwick Rittenhouse, was very understanding. "He knew I would have a steeper learning curve, but he was always willing to work with me. He has a great style, very down to earth and genuinely caring."
Although the online nature of the program was appealing to Alex, he wasn't sure how he would like the HuskyCT/Blackboard platform. "I had never taken an online course. But I found it so easy to get up to speed. Everything was set up for us, we knew exactly what we had to read, what our assignments were and our deadlines. We were also required to work on group projects, something I hadn't had much experience with. But it was great and I really connected with many of my classmates." And he adds, "Dr. Rittenhouse was very responsive. When I emailed him, I never had to wait long for answers back. It felt no different than what I remember as an undergraduate student."
Alex also adds that being proficient at working online is a big plus now, with so many companies having employees work from home during the pandemic. "It was an unforeseen bonus. Now I feel comfortable working in groups online and being able to accomplish projects without having to meet in person."
Course content also hit the mark, notes Alex. His favorite course, NRE 5220 – Environmental Planning for Sustainable Communities and Regions, gave him the chance to work on one large project with other classmates over the entire semester. He and his group chose a topic that enabled them to work with Connecticut's Department of Energy and Environmental Protection (DEEP). "It was a lot of fun, but very challenging," says Alex. "We worked slowly toward building a comprehensive report, learning how the DEEP requires reports to be put together. While we all worked separately on different aspects of the project, we were able to pull it all together and create an incredibly comprehensive report." Like Dawn Works-Dennis, who also shares her experiences on this site, Alex and his group studied the pollutant levels in the Connecticut Farmington River Watershed, a project idea he had suggested to his cohort. Alex also notes that thanks to the other courses he took, he honed his communications and structured decision-making skills. "Even though the content was focused on the environment, the management aspect of the SEPM program, including communications and decision- making, could definitely be applied to other fields."
As of July 2020, Alex has been applying to various positions throughout the State of Connecticut, with a strong interest in working for the DEEP in managing environmental regulations. "The UConn Sustainable Environmental Planning and Management certificate is definitely opening doors for me, giving me the chance to interview for jobs that I would likely not have been qualified for prior to getting the UConn credential.
Learning so much about environmental management has absolutely made me a more viable candidate for various positions."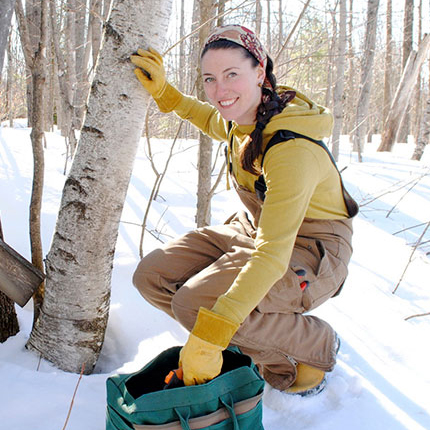 "Eventually, I want to transfer the skills I gained in the program and do something on a broader scale—maybe city planning or working in the renewable energy field. Thanks to the UConn credentials I earned in the program, I feel like I have a fighting chance of pursuing my dream—even if I'm up against people with full Master's degrees." – Rachel Grigorian, Sustainable Environmental Planning and Management Online Graduate Certificate, Graduate Fall 2015
Right in Her Own Backyard
Rachel embodies the expression, "Act locally, think globally." As Lead Landscape Project Manager at Rivers Bend Design in Vermont's Mad River Valley, she's constantly battling water and other resource management issues that affect her clients. Rachel is hoping that with her University of Connecticut (UConn) credential under her belt, she can take what she learned in the program—and on the job—to make an even bigger impact on sustainability in Vermont.
For Rachel, the real-world issues addressed during the Sustainable Environmental Planning and Management program couldn't be more personal. She, her husband Clayton, and their two children are among 350 people who live in the small rural town of Granville, Vermont. In her position as Lead Landscape Project Manager for a local landscape design firm, she helps manage complex environmental issues that arise during new construction projects.
Water, water everywhere.
"There's a lot of land available in Vermont, and everyone wants to build their dream home. But that can be a real problem because of the tremendous amount of water our state has combined with the steep geography of the Green Mountains," says Rachel. "So we do a lot of water runoff planning. We have to look carefully at the way water moves through ecosystems and properly plan for it so that we don't destroy the land and environment that attracted the homeowner in the first place."
As Rachel notes, participating in the program prepared her to tackle real problems she faces on job sites. "One course, Sustainable Natural Resources Management, presented case studies on the issues we face today in the areas of sustainable agriculture, fisheries, forestry, freshwater, marine, water, and wildlife resources. It had a big science base to it. I use what I learned every day in my current job."
The program went with her.
Rachel admits that if the program hadn't been available online, she wouldn't have had the opportunity to participate. As she explains, she got her undergraduate degree in landscape design from UMASS Amherst, but always wanted to do something in sustainability and conservation. Her sister went to UConn, so she naturally thought about getting a Master's in Landscape Design here, but decided she wanted to explore a different route. That's when she came across the Sustainable Environmental Planning and Management Program's website. "I was not only interested in the focus of the program, but also because the curriculum was online. Time was limited; I was working and getting my Master Gardeners certificate, so I was juggling a lot. Because it was online, I could participate on my own schedule," she recalls.
Rachel took the plunge and enrolled in the certificate program for the fall 2014 semester. At the time, her boyfriend, now husband, had moved to Vermont to take a job. "I had already enrolled in the program when Clayton moved. I ended up quitting my job at a landscape firm in New Canaan, Connecticut and moved to Vermont. Thankfully, I could just continue the online program without any interruption."
A fighting chance.
Rachel was surprised at how much interaction there was between professors and students. "It was just as good as being in a traditional classroom—if not better in some ways. I could post a question in a forum, and I knew I'd get multiple responses from students who might have a different take on the concepts or understand them better than me. I also liked that the program focused so much on writing proposals for projects. I learned how to craft proposals that would entice the audience I was writing for to read on." And Rachel concludes:
"Eventually, I want to transfer the skills I gained in the program and do something on a broader scale—maybe city planning or working in the renewable energy field. Thanks to the UConn credentials I earned in the program, I feel like I have a fighting chance of pursuing my dream—even if I'm up against people with full Master's degrees."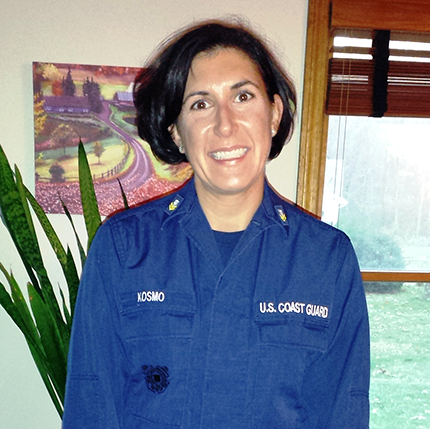 "If you are considering taking the SEPM online graduate certificate program, go for it! Not only will it enhance your ability to advance your career, but you can also apply the credits you earn to a Master's degree at UConn, which is exactly what I did. It was a real win-win for my family and for me!"– Michelle Kosmo, Sustainable Environmental Planning and Management Online Graduate Certificate, Graduate Summer 2016
Master Juggler
You could call Michelle Kosmo a major multi-tasker. While pursuing her post-graduate education in natural resources, she juggled the demands of her family along with her duties as a Coast Guard Reservist.
Now it's all paying off. Michelle recently earned her Master's Degree in Natural Resources at the University of Connecticut (UConn). And she just completed UConn's Sustainable Environmental Planning and Management (SEPM) Online Graduate Certificate Program.
What was the key to her ability to manage multiple priorities at once? "Many of the classes I took were online, including all of the courses for the certificate program," she answers. "I didn't have to be in a set location at a specific time. I had a lot of flexibility and could complete the work on my own schedule. When you have a small child – and a significant commitment like I do to the Coast Guard – that's really important."
But says, Michelle, "Just because you can do the certificate program courses on your own time, don't be fooled. I found that they required about twice as much work as traditional classes."
That time was well-spent, emphasizes Michelle. "Each of the four courses gave us a wealth of information relevant to timely topics, while covering many different areas, from coastal environments and fisheries to open spaces and sustainable agriculture. And each course built on the previous one, culminating with a Capstone Project."
Great insights.
She also greatly valued the opportunity to interact with her peers, many of whom were working professionals planning to go into – or already in – the natural resources and sustainable environmental planning fields. "The discussion component of the class allowed us to make posts and reply to other posts on a regular basis throughout the program. That gave me incredible insights into other students' perspectives, which I don't think I would have gotten in quite the same way in the traditional classroom setting. I also found that the online format of the program helped enhance my understanding of the material."
Learning to resolve conflicts.
Most importantly, Michelle says, between the two required courses and the two electives she chose to take – NRE 5205 – Decision Methods in Natural Resources and the Environment and NRE 5210 – Communications for Environmental Decision Makers – she gained real-world, hands-on skills. "In our field, you're often dealing with disparate groups. Many times, they are individuals with extremely different agendas and perspectives. The program gave me the written and oral communication skills I'll need to convey my ideas in a way that helps resolve conflicts and facilitates negotiations. For example, I now know how to structure a meeting that keeps the conversation on track and helps build consensus."
Systematic PrOACT decision-making.
During the final NRE 5220 Capstone Project course, students were required to work on a group assignment to prepare an environmental plan, which gave Michelle the opportunity to utilize the knowledge she gained in the online certificate program. Her group assignment required her to work with two classmates to create a Green Space and Green Infrastructure Addendum for the City of Hartford's Plan of Conservation and Development. "We were required to work through the entire process of developing a comprehensive environmental plan using the systematic PrOACT approach to decision making. It's a great model because it shows your constituents that you have thought through the plan in a very comprehensive, structured way."
Go for it!
While Michelle is raising her young daughter, she plans to put her career in natural resources on hold—at least for the immediate future. But she says, every month she has the opportunity to use the knowledge she gained when she heads to Boston, Massachusetts to fulfill her duties with the Coast Guard Reserve. "I intuitively draw upon the new perspectives and skills I gained from my experiences at UConn; they have become integral to my way of thinking about the environment."
In summary, she says: "If you are considering taking the SEPM online graduate certificate program, go for it! Not only will it enhance your ability to advance your career, but you can also apply the credits you earn to a Master's degree at UConn, which is exactly what I did. It was a real win-win for my family and for me!"